Apr-16-07, 11:49 am by Hanford
File under: Video games, design, User Interface, game design

... do what they're telling you. This came up at GDC when talking to the Mawsoft guys so I thought I'd blog about it here.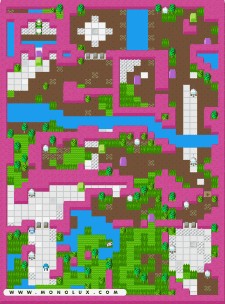 Community is big these days. You'll hear lots of designers tell you that it's important to build a strong community and listen to them, because they are your core users. And I agree with that.

But in UI design it's important to understand that what a user says and what a user is telling you can be two different things. It is rare that a user outright lies for no reason. There is almost always a root cause for what your users are saying. The trick is to find that root issue to truly get what the user is telling you. And it is often a bit different than what their words are saying.


An example
My first solo-effort game was a little one called Rocknor's Bad Day, which was mainly a learning experience for me. In the game you control a little robot named Rocknor, and the goal is to make it through each level and get to the exit. Along the way you are confronted by many obstacles, puzzles, and traps.

I sent a private beta version to some close friends to get their take on it. A few days later I collected feedback via email and phone conversations. I got a good variety of comments back. Constructive thoughts. But I noticed an interesting trend: The most common thing suggested was "Add an undo to the game". It seems almost everyone who tested the game had asked for an undo option.

I was kind of crestfallen, for a few reasons. Games aren't the type of products that have or need undo. word processors and paint programs Yes, but not games. Secondly, retrofitting an undo into my game would be a bucketload of work, if I was even up to the task of doing it.


Watching users play
My first natural thought was to be a good designer and take my user's suggestions to heart. But I decided to do a deeper test of the game before venturing off into the world of undo programming. I wanted to find the root cause of the "undo" request. I had some friends of mine host a playtest party at their house, where everyone brings laptops and installs the game, then I could watch them play it. Not quite a genuine user test, but more of a Lucasarts-style Pizza Orgy.

During the party I got a lot of great feedback. Just watching someone play my game and see them learn from their mistakes was an incredible experience. But mainly I was watching closely to see if and why anyone was going to request an undo feature. What I saw was surprising. Almost everyone playing the game was oversteering the character. I mean really oversteering. Overshooting their targets, pushing objects too far, smashing into walls, and falling into water.

One of the major elements of Rocknor's Bad Day is pushing obstacles into place, and the obstacles can only be pushed, not pulled. But oversteering of the main character meant that they were often pushing objects too far into unrecoverable positions -- which means they lost the level and would have to restart. I also saw a lot of people often fall into the water way too often, which was instant death.


The results
After the user test is was clear to me that the root cause for undo requests was that the controls were too sensitive for the average player. There were a few other things that were revealed too. People really loved solving the puzzles in the game -- the first time. But if they had to restart, they really did not enjoy redoing the puzzles they had already solved. This was another cause of wanting an undo in the game. I ended up making a few changes:


I slowed down the movement of the character

When he was pushing obstacles he moved even slower

There was no real gameplay benefit to having water be a death obstacle, so I made water act like a wall to the player -- meaning he would not fall in, but he couldn't walk on it or in it, either.

I implemented waypoints that, once the player had touched, would be their respawning point if they restarted. Waypoints were often located on the other side of difficult puzzles so if the player restarted they would not have to re-play the already solved puzzles again.
Post-change testing
After making the changes, I did a few more user tests and the results were astounding. No one was asking for Undo anymore. It was a big difference from before. The important thing though is that I never implemented the number one feature request, which was undo. I didn't ignore their requests, but I didn't go ahead and implement them without understanding the root cause of their requests. When you listen to what your users are telling you instead of what they're saying, you have the opportunity to incorporate improvements that still fit into your vision of your product.





Feedback - 18 responses
Displayed newest to oldest. Leave a comment.
This post is closed to new comments.