Apr-13-06, 5:37 pm by Hanford
File under: web2.0, Bad User Interface
AKA: I blame Google
I've been using LinkedIn recently. LinkedIn is like Myspace for career networking, but it's got so many design problems that their various UI components battle each other gladiator-style for the honor of pissing me off.

I was using it the other night, looking in vain for the the list of contacts that is displayed with most profiles. I knew it was there because I had seen it before. I was simply missing it. Finally, after perhaps 10 minutes of searching on the page and looking for options that might hide/show them, I saw it: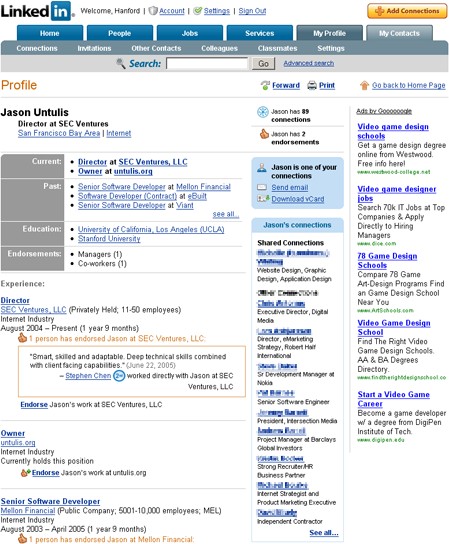 Sitting right next to the long list of text ads by Google was the long list of Contacts. Click here to see a screen capture of it.
My mind had completely tuned both columns out. I just thought that the column of contacts was just another Google ad, I guess.

I remember the good old days, where online ads flickered brightly and the goal was often to punch a monkey in the face with a wireless spy camera. It was easy to tell the difference between the ads and the content. But Google Ads changed all that. They've made ads just as boring and plain as the content itself. Google actually makes it easy to customize an ad to look just like your website. Damn them!

But of course, LinkedIn is totally in control of the look and feel of their website, including the color and placement of their ads. So at the end of the day I don't really blame Google. And for the record I don't blame LinkedIn's UI designer either. The UI designer is only a small part of the development equasion and I have zero insight into the inner workings of the LinkedIn offices.

The moral of the story is that formatting data in a similar way to Google ads is a good way to have users ignore it. And placing that data right next to a real Google ad doesn't help.

EDIT: Thanks To Jason Untulis for letting me use his LinkedIn profile in my examples.




Feedback - 6 responses
Displayed newest to oldest. Leave a comment.
This post is closed to new comments.