Jan-2-08, 2:41 pm by Hanford
File under: Photoshop, design, Director, Adobe, Shockwave, Lingo

When you're a hobbiest programmer, every problem looks like it can be solved with a little scripting. This Holiday season I was working on a for-print art project and I needed some paint splatter for texture. Splattering paint is a great way to get some organic texture into a piece of art, but it's messy and requires a lot of room. So I decided to try writing a quick script to see if I could accurately simulate it.

The end result is this little web app I wrote. It's got a little bit of GUI to make it easy to adjust the amount of splatter you need. The end result is an image that you can use in Photoshop.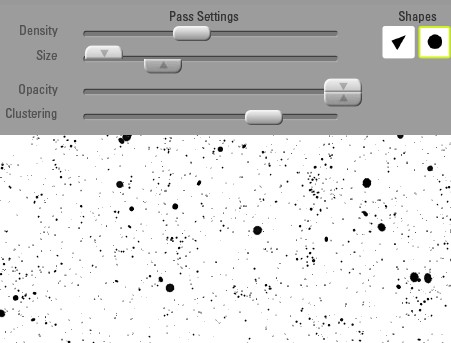 Here's a brief rundown of how it works:

+ The canvas is made up of "passes" of paint splatter. You can Add and delete as many passes as you want.
+ Each pass has it's own set of settings. you click on a pass on the left, then you can change the settings for that pass.
+ double-headed sliders set minimums and maximums for settings.
+ As you change settings, you'll see a realtime preview of just that pass on the right.
+ when you stop dragging a slider, the big canvas will re-splatter with your new settings.
+ To get the image into Photoshop, you click on the "Copy to clipboard" button or "copy inverted", which reverses it for better channel creation.
+ You can tweak with a small sized canvas, then when you got it the way you want, make the canvas bigger.
+ There's no way to save settings yet.

you may need to install the latest Shockwave plug-in to make it work. Enjoy




Feedback - 3 responses
Displayed newest to oldest. Leave a comment.
This post is closed to new comments.